Gary Gray
Sculptor of Sound
A Member Of N.A.R.I.P.
National Association of Record Industry Professionals
Gary Gray Publishing
A Member of A.S.C.A.P.
The American Society Of Composers, Authors and Publishers
Endorsed by
Yamaha, Inc.
Steinberg
Cubase
Trained on Cubase, ProTools
Owner, President
Parker Gray Management
http://www.parkergray.net
Owner, Founder
International Network Transactions, LLC



Below is one of several videos comprising the newest course being released by Gary with Aaron Davison and
HowToLicenseYourMusic.com called "Mysteries Of Mastering Solved." In this video, several myths are busted & important secrets are revealed on the subject of Recording, Mixing and Mastering -- including a candid look at how to get Major Label Quality vocal tracks without ever leaving your Home Studio. And you thought this was going to be just another boring tutorial. . .
Gary Gray recently produced the latest single "Headed Home"
by Aaron Davison, founder of HowToLicenseYourMusic.com.
Mixed and Mastered
by Gary in the tradition of timeless classic folk rock anthems of the '70's,
a la Simon & Garfunkel, this inspiring and moving guitar-centric gem features Michael James
and Gary Gray
on background vocals.
Gary also played bass, keyboards and percussion.



"Headed Home" by Aaron Davison
Featuring Michael James
Produced by Gary Gray
Owner, Founder
The International Music Licensing Contest
http://www.IMLContest.com
The International Music Licensing Contest welcomes our latest Music Supervisor Judge to our Panel of Judges, Joseph Miller, Music Supervisor and music Coordinator for CBS Sports! Joseph Miller is a Music Supervisor, Business Developer and Synch Agent to multiple international music placement companies. He has served as a panelist and judge at songwriter and artist pitching events and has collaborated with industry insiders to produce content that educates and inspires musicians interested in procuring synch placements. Joseph is represented by the Max Steiner Agency in Los Angeles. He attended SUNY Oneonta where he earned a degree in Music Industry and Audio Production. Since graduating in 2011, Joseph has been employed by Cherry Lane/BMG and served as a Music Specialist at A&E. He recently found his home at CBS Sports as their Music Coordinator. Currently he resides in Jersey City. He is the first in-vitro twin from Long Island. Welcome Aboard Joseph!
To Enter Your Music in the
International Music Licensing Contest
CLICK HERE.
Director Of Artist Development
LearnAudioEngineering.net
http://www.LearnAudioEngineering.
net
Author, "30 Years In 30 Days -
Discover 30 Years of Music Production
and Audio Engineering Secrets
- In Just 30 Days!"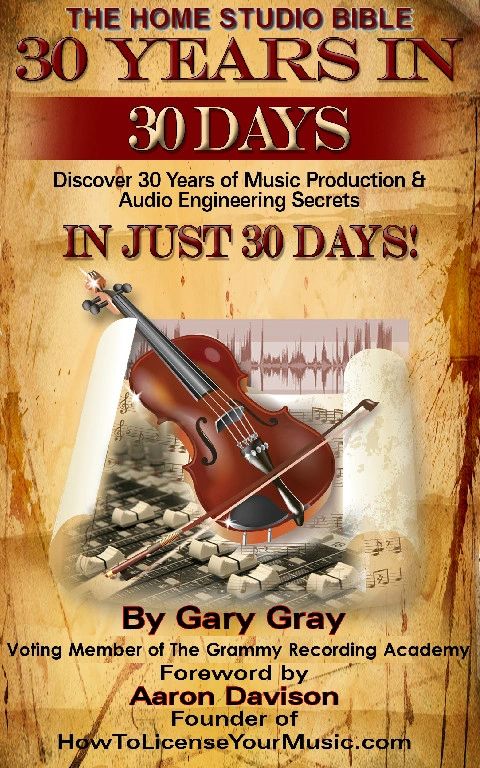 To Purchase Your 176 Page, 30 Chapter Download Copy For a Pre-Release
Rate of $9.99 (Retail Value $45.00)
CLICK HERE
.
"Gary Gray is not only a great writer, arranger, producer and engineer; he has a keen eye for finding the best talent in the industry. His song 'Flowers In The Fire' is amazing."
– A.J., Producer - Usher, Rihanna, Justin Bieber


"You hit this one out of the park. Sounds awesome. This is fantastic."
- The Disney Music Group
"Gary Gray is a Master. His orchestrations fit my songs like a second pair of pants and made them 10 times better."
- Multi-Platinum Singer/Songwriter, Founder of Jefferson Starship,
Rock and Roll Hall Of Fame Inductee,
- Marty Balin
Gary's work is featured on Marty's latest solo album "Blue Highway."
To listen to samples of the album and/or to purchase any of the tracks or the entire album